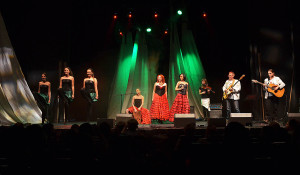 We are a maritime-folk group from Wrocław. We have large stage experience – from many years we play concerts on big and small stages in Europe and USA. We play our own, original music. At our concerts we show what is unique in Polish maritime music – the world of the sea seen through the eyes
of women, inspired by Irish folk.
We began our maritime – shanty career on the 4th of July 2003, when we attended a maritime song festival for the first time. Later many musicians passed through the group. Each of them put
a piece of themselves into our music, thanks to which many new compositions and song arrangements were created, which are played to this day. Then we won a few important awards and started playing at festivals and concerts all over Poland.
A few years ago started our adventure beyond polish borders too
– since then we visited with our music Germany, France,
England, Norway, Czech Republic and the USA.
.
Here are a few harbours, which favourable winds have sent us to at one time or another:
III place at the Polish Nationwide Maritime Song Festival in Kunice 2003
II place at the Polish Nationwide Meeting with Maritime Song "Rafa 2003" in Radom
I place at the Amateur Artistic Creativity Review 2004
Distinction at the "Szanty we Wrocławiu 2004" Festival
I place and media award at the "EKO – Tratwa 2004" Maritime Song Festival
I place at the winter edition of the "Port Pieśni Pracy 2005" festival
I place at the "Szanty we Wrocławiu 2005" festival
II place and audience choice award at the "ZĘZA 2005" festival in Łaziska Górne
II place at the "KEJA 2005" festival
II place at the "Morskie Opowieści 2005" Maritime Song Review in Morsk
nomination at the XXV "Shanties" International Maritime Song Festival in Kraków
Pomorskie Region governor's award at the "Szanty pod Żurawiem 2012" festival